Marcella Yepa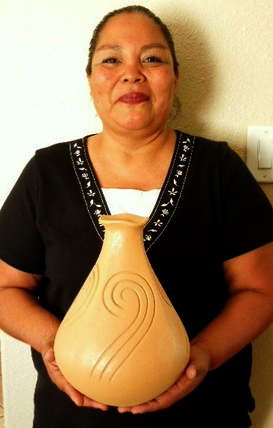 Marcella Yepa
Marcella Yepa was born into the Sun Clan on Jemez Pueblo in 1964. She began working with clay at the age of 19, inspired by her aunt, Alvina Yepa. Alvina shared all the fundamentals of hand coiling traditional pottery with her. Alvina also taught Marcella which hills provided the best clay and taught her special techniques for constructing her pottery.
Marcella specializes in hand coiled contemporary swirl and melon styled pottery. She gathers her clay and other natural pigments from within Jemez Pueblo. In the traditional way, she soaks the clay, grinds it to a powder, cleans the clay, hand mixes, hand coils, shapes, carves the pottery, polishes her pottery with a stone and fires her pottery outdoors using cedar chips. She hand coils many shapes and sizes of pottery: wedding vases, ollas, and traditional shapes. She works in red, buff, green and charcoal, sometimes putting on a micaceous slip to add a subtle sparkle.
Marcella signs her pottery as: "M. Yepa, Jemez", or "Marcella Yepa, Jemez". Marcella's own website: marcellayepa.weebly.com.
Awards Marcella has Won:
1st Place: Eight Northern Pueblos Annual Arts Show, Ohkay Owingeh, NM - 2010
1st Place: The Cherokee Art Market, Tulsa, OK - 2007
1st Place: Tulsa Indian Art Festival, Tulsa, OK - 2008
3rd Place: Eight Northern Pueblos Annual Arts Show, Ohkay Owingeh, NM
3rd Place: Gallup Intertribal Indian Ceremonial Art Show, Gallup, NM