Ray Garcia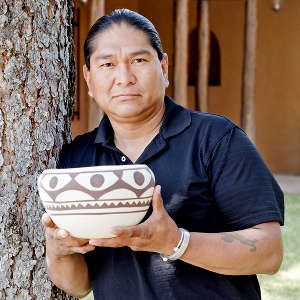 Ray Garcia
Ray was born into a San Felipe family of potters and jewelers on June 23, 1966. As a young boy, he pulled his little wagon to the south side of the pueblo to collect clay with his grandmother to use in the creation of her pots (her name was Maria Chavez). Along the way she would tell him stories about the animals and the insects, stories which he incorporates in his pottery today. Ray's grandmother instilled in him the love of making pottery as she taught him how to mold the different clays and when to touch and when not to touch the delicate pots. It's in that feeling of the clay that Ray feels his connection today.
Ray's interest in traditional arts began at the age of ten. He worked with family members producing turquoise and heshi necklaces to wear for special San Felipe Pueblo cultural events and also to sell to bring in money for the family. At sixteen, Ray was introduced to silverwork by his mother, a silversmith in the Pueblo. She taught him different methods of working silver including inlay, tufa casting, and overlay.
Ray went to High School at Santa Fe Indian School and after he graduated he enlisted in the United States Navy. That allowed him to travel the world and gave him an opportunity to experience other cultures and their arts. Ray was intrigued with and influenced by the art he encountered during that time.
Because there were so few potters at San Felipe, Ray's techniques are self-taught. In 2004, he began going to the art studio at the Student Union building at the University of New Mexico to learn from other students and artists. Since then, he has taken Pueblo pottery and micaceous pottery classes at the Poeh Center in Pojoaque Pueblo. He still works with both silver and clay, reimagining designs he came across in his travels. In his pottery, however, Ray primarily incorporates traditional elements of Puebloan New Mexico.
After he turned forty-two, Ray began to have dreams and visions of new pottery designs. These dreams and visions, he believes, were sent to him to reawaken a sense of connection that had been lost over time and also to rekindle his forgotten love of pottery. This was the beginning of his real journey, using clay of all types, but it is especially the clay from San Felipe that fills his heart with joy.
Ray has enjoyed a personal renaissance in his pottery and his inspiration, something which is clearly apparent in many of his current pieces. He feels his relationship with Mother Earth and with his past that he couldn't feel when he was younger. There is a peace and a clear understanding of his dreams and visions. As he sits and works with clay, Ray says he becomes the clay; it is an extension of him. "I put all of myself into each pot and, in this way, each is a unique experience all in itself and to itself. I know the peace and comfort that my grandmother felt when working her pots and now I share my dreams and visions, expressed through my pottery, to be experienced by all."